Hi, I'm Gizem
I am a multidisciplinary designer based in Austin, and I love crafting experiences that empower and engage users.
"To find ideas, find problems. To find problems, talk to people."
— Julie Zhou
As a consultant, I work with clients to solve complex business challenges, and shape products by channeling the voice of the customers. Previous work ranges from enterprise platforms, responsive B2B/B2C sites, and web apps.
My process is customer-focused, transparent and collaborative. I am happiest when I am learning and improving. Recently, I completed the front-end degree through Udacity. In my [non-existent] free time, I foster animals, try new recipes and travel the world.
Leveraging expertise in blockchain technology, BTC Labs is a venture studio building a suite of decentralized applications. I worked closely with the CoinCart team on the enterprise-grade ICO issuance platform. I also designed the PoC for the BTC blockchain explorer.
Somnio is a B2B digital marketing agency. As a member of their freelance network, I contributed to various phases of ongoing design projects for clients, such as IBM. 
At Anaconda, I lead discovery, user research and testing sessions to help us make informed decisions about products used by scientists in Fortune 500 companies.
Hideaway Report | Andrew Harper
Andrew Harper is a luxury travel publication and full-service travel agency. As a small web team, we made great strides in growing the company's web presence. Four years later, the company has rebranded, and I currently serve as a freelance UX consultant for the editorial team. 
Role: Web Designer, Freelance UX Consultant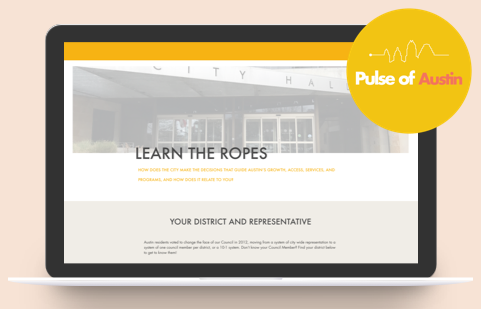 During ATX Hack for Change, I joined forces with an amazing team of 12 to create a website for the Pulse of Austin. We rallied around The Pulse's mission: Make civic participation simple and personal.
Grow with Google | Udacity
In 2018, I earned the Grow with Google Scholarship for Front-End Web Development. Coursework covered web accessibility, Javascript (OOP), tools & testing, and progressive web apps.
Completed: 
October 24, 2018